The Power of The Capsule Wardrobe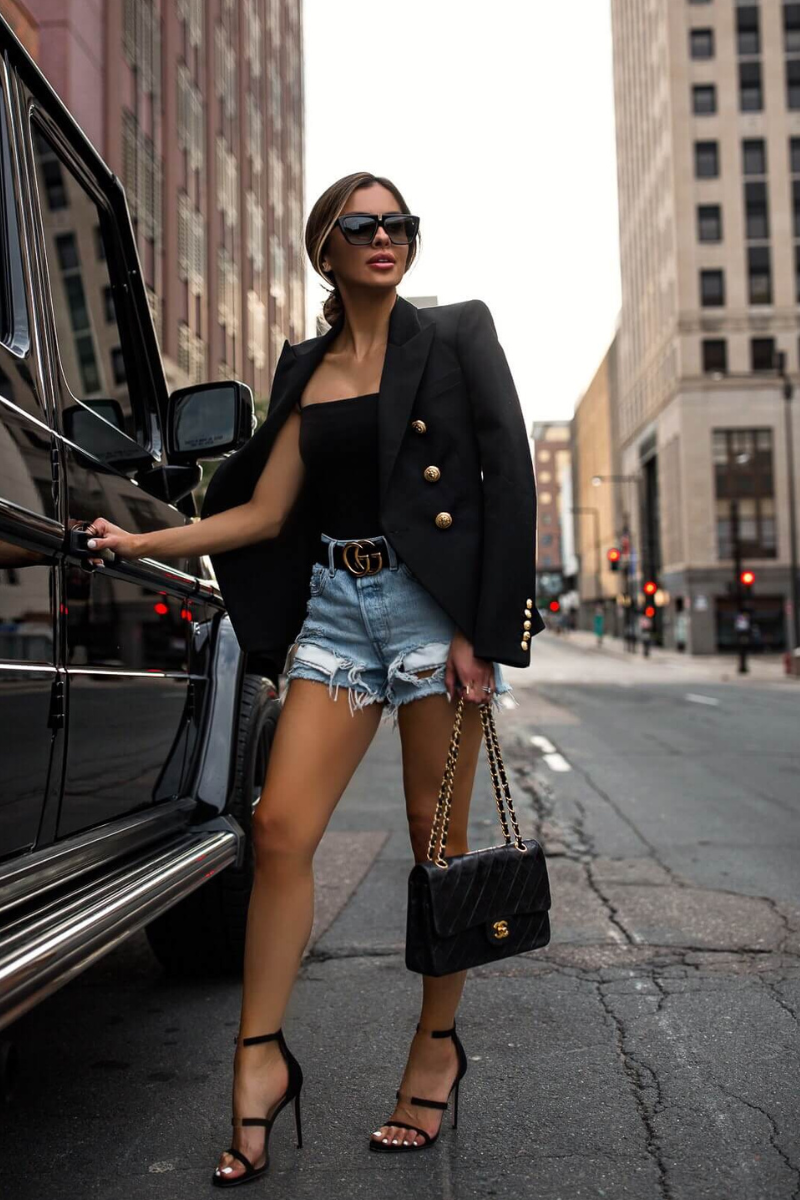 Hey there, fashion-forward friends! Today, we're diving into the fabulous world of the capsule wardrobe – a magical concept that allows you to rock your style without drowning in a sea of clothes. If you're tired of rummaging through mountains of mismatched socks and "nothing to wear" moments, fear not! Embrace the capsule wardrobe and get ready to dress smart and live large!
Capsule Wardrobe: Less is More
Kendall Jenner wears a beautiful classic oversized shirt, paired with classic flats. 
 Picture this: a wardrobe curated with care, filled only with pieces you love and actually wear. No more stuffed closets bursting at the seams! The essence of the capsule wardrobe is simple: quality over quantity. With a curated collection of versatile pieces, you can create endless outfits that scream "I woke up like this," even if you didn't. 
Clothes that Spark Joy
Kendall Jenner waers a classic black dress that is chic and accentuates her silhouette. A perfect capsule piece. 
Marie Kondo would be proud! The capsule wardrobe is all about keeping only the clothes that spark joy in your heart and make you feel like the fashion goddess you truly are. Bid farewell to those "what was I thinking" impulse buys, and embrace a wardrobe that reflects your unique style and personality.
Versatility: The Superpower of Capsule Wardrobe
Getty Images. Bella Habib wearing a statement jacket that would be a good addition to a capsule wardrobe. 
When it comes to a capsule wardrobe, versatility is the name of the game. Each item in your collection should be a team player, ready to mix and match effortlessly with the others. Say hello to a world where one fabulous blouse can serve as the star of casual brunches, fancy dinners, and everything in between. Versatility, baby – it's like having a fashion genie in your closet!
Quality Matters, Darling
Splash News Images. Rhianna wears a beautiful capsule piece, that is elegant, timeless and good quality.
Invest in pieces that stand the test of time, and you'll never have to worry about those pesky seams unraveling at the worst possible moment (we've all been there!). Quality clothing not only looks better but also feels better on your skin. Embrace those sustainable, durable, and timeless pieces, and you'll strut around like a runway model every single day.
Mix, Match, and Remix!
Beyonce wears a classic shirt and bold shoes and trousers. A classic capsule piece.
Here's the best part: creating outfits with a capsule wardrobe is like playing your favorite fashion puzzle. Mix and match your pieces like a pro and discover new combinations you never knew existed! That polka-dot skirt with that vintage tee? Oh, yes! That blazer with those ripped jeans? A match made in style heaven! The possibilities are as endless as your creativity.
Capsule Wardrobe Shopping: Choose Wisely
Always remember to choose clothes wisely!
When it comes to shopping for your capsule wardrobe, channel your inner fashion detective. Ask yourself the tough questions: "Do I really need this?" "Will I wear it more than once?" "Does it make my heart skip a beat?" If it doesn't pass the test, step away from the rack, my friend – you've got better outfits to create!
Saying Goodbye: The Edit Dance
Getty Images. Woman deciding what clothes to say goodbye to.
Every now and then, it's time for a good ol' wardrobe edit dance party! Take a critical look at your clothes and say goodbye to the ones that no longer spark joy or fit your fabulous style. Don't worry; you're making space for new fashion adventures – and that's always a reason to celebrate!
Conclusion
Wear your classic wardrobe year on year with confidence. 
The capsule wardrobe is the secret sauce to dressing smart, living large, and feeling like the true fashionista you are. With quality pieces that speak to your soul, versatility that rocks your world, and a touch of fashion magic, you'll be strutting through life with confidence and style. So, let's raise a toast to the capsule wardrobe – the key to fashion happiness, one fabulous outfit at a time! Cheers, darlings! 🥂
---