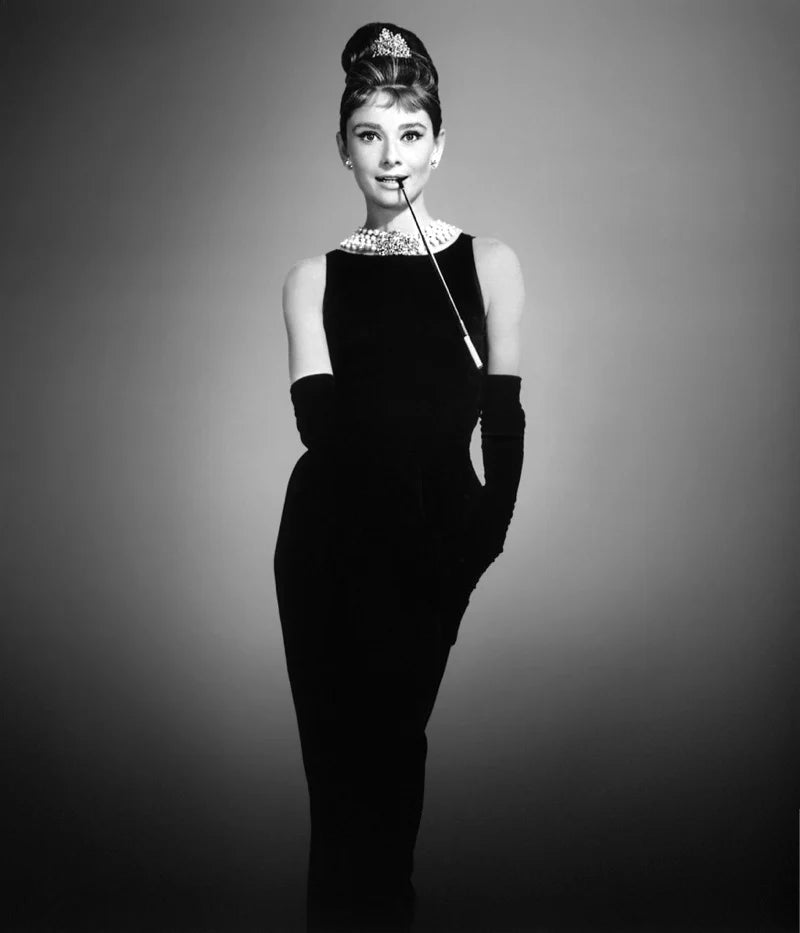 Aubrey Hepburn: Breakfast at Tiffany's
Hello, gorgeous fashionistas! Today, we're diving into the enchanting world of the Little Black Dress (LBD), a true icon that has stood the test of time.  Let's dive in and explore the magic of these must-have LBD styles and how to rock them with flair!

The Midi Dress: Effortless Elegance
Amber Gill wearing a black midi dress.
Ah, the midi dress – the epitome of effortless elegance! For our slim beauties, the midi length is a match made in fashion heaven. It gracefully skims your curves and adds a touch of sophistication to your ensemble.
Styling Tip: Pair your midi LBD with strappy heels and delicate jewelry for a chic and refined look. Go for a sleek updo or loose waves to complete the ensemble.
Suggested Dress: Amber Gill's midi dress – This lovely  midi dress boasts a bodycon fit and  black satin, with a flattering fit that'll make you feel like a modern-day Audrey Hepburn!
The Mini Dress: Leggy Loveliness
Britney Spears wears a LBD at the Billboard Music Awards.
Short, sassy, and oh-so-stylish – the mini dress is your go-to for leggy loveliness! Embrace your slender figure and show off those fabulous gams.
Styling Tip: Rock your mini LBD with edgy ankle boots or strappy stilettos for a bold and trendy look. Add a leather jacket or denim shirt to channel some urban chic vibes.
Suggested Dress: Little black dresses are classic and timeless– Britney Spears wears a little black dress that has clean lines and turn heads on the dance floor!
The Embellished Sequin Dress: Sparkle and Shine
4ever Stunning Black Sequin Cami Dress
Ready to dazzle and delight? The embellished sequin dress is your ticket to sparkling allure! Let your inner diva shine through and steal the spotlight.
Styling Tip: Opt for strappy sandals or metallic heels to complement the shimmer of your sequin LBD. Keep the accessories simple – a statement clutch and sparkly earrings will do the trick.
Suggested Dress: 4ever Stunnings Sequin Cami Mini Dress – This cami-style dress features eye-catching sequins that shimmer with every move, making you the life of the party!
The Maxi Dress: Free-spirited Beauty
. 
Naomi Campbell stuns in this beautiful black maxi dress.
Effortlessly chic and free-spirited – the maxi dress is a boho beauty that complements your slim frame. Embrace the flowy silhouette and be a vision of laid-back elegance.
Styling Tip: Add a wide-brimmed hat, chunky bangles, and strappy sandals to complete your bohemian-inspired look. Let your hair down in soft waves or a loose braid for an extra touch of charm.
Suggested Dress: Naomi stuns in this timeless maxi dress – This ethereal maxi dress features a statement belt to cinch you in the waist and flatter your curves!
The Timeless LBD: A Wardrobe Essential
Jennifer Lopez, Getty Images/Steve Granitz
There you have it, lovely ladies – a delightful guide to the timeless charm of the Little Black Dress! Whether you're flaunting a midi dress with elegance, rocking a mini dress with sass, dazzling in an embellished sequin dress, or embracing boho beauty in a maxi dress, the LBD is your ultimate fashion ally. It's a versatile piece that transitions effortlessly from daytime chic to night time glam – perfect for your dynamic lifestyle.
 Conclusion: Style It Your Way
It's time to embrace the magic of the Little Black Dress and make it your style signature. Dress it up or down, add your personal flair, and let your confidence shine through.
Remember, the LBD is not just a dress; it's a statement, a symbol of timeless charm, and a canvas for your creativity. So, go ahead, rock that LBD, and be the epitome of elegance and grace in every step you take! Happy styling, darlings!
Want to be inspired, shop our Little Black Dress Collection Now!
---