Dress to Impress: The Ultimate Guide to Flatter Your Body Type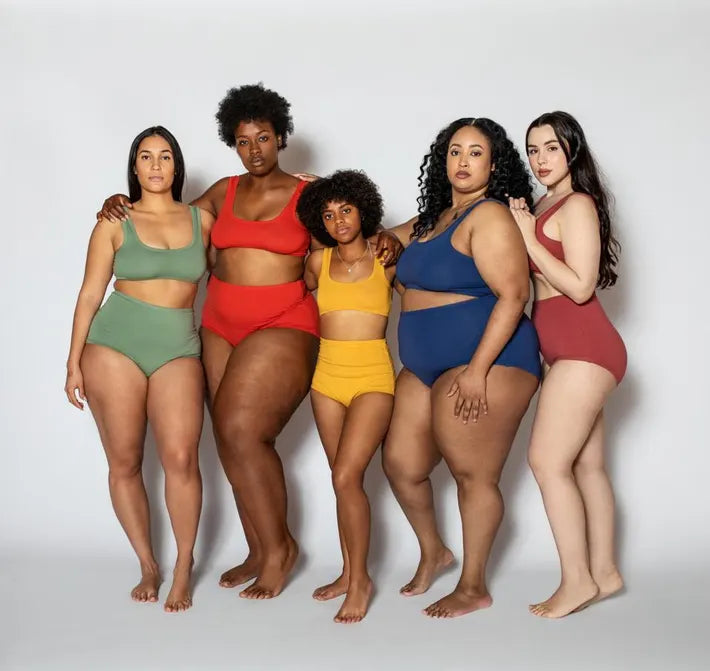 Lets explore the beauty that is found in different female body shapes:
Hey there, fabulous ladies! 🌟
We've all been there, right? Standing in front of our overflowing closets, wondering why that dress we adore looks so much better on our friend than it does on us. The secret? Understanding your unique body type and dressing to accentuate your best features. So today, let's talk about the five common body types: rectangle, inverted triangle, pear, hourglass, and apple. With a little fashion know-how, you'll be looking and feeling your best in no time!
1. Rectangle:
First up, we have the rectangle body shape. If you're a rectangle, your bust and hips are roughly the same width, and your waist is not particularly defined. Think of celebs like Cameron Diaz and Kiera Knightley – they're the epitome of this body type.
Styling Advice:
Create curves by cinching your waist with belts or opting for fit-and-flare dresses.
Play with layers and textures to add dimension.
Choose tops with ruffles, prints, and details to balance out your straight shape.
2. Inverted Triangle:

Inverted triangle gals, your shoulders are broader than your hips, giving you that athletic, statuesque figure. Celebs like Angelina Jolie and Naomi Campbell fall into this category.
Styling Advice:
Balance your proportions by adding volume to your lower half with A-line skirts or wide-leg pants.
V-neck tops can elongate your neckline and draw attention away from your shoulders.
Opt for darker colors on top and lighter shades on the bottom for a flattering contrast.
3. Pear:
Pear-shaped beauties, your hips are wider than your shoulders, and you likely have a smaller bust. Embrace the fabulousness of celebs like Beyoncé and Jennifer Lopez, who also flaunt this shape.
Styling Advice:
Draw attention to your upper body with statement necklaces and eye-catching tops.
Opt for A-line or skater skirts to highlight your narrow waist and minimize your hips.
Dark-colored bottoms and patterned tops work wonders to balance out your silhouette.
4. Hourglass:

Ladies with an hourglass shape have balanced bust and hip measurements, with a defined waist. Think Marilyn Monroe and Sofia Vergara – the definition of timeless beauty.
Styling Advice:
Embrace fitted and tailored clothing to show off your curves.
Wrap dresses and belted garments will highlight your tiny waist.
Avoid shapeless clothing that hides your natural figure – it's all about celebrating those curves.
5. Apple:
If you're an apple shape, you carry most of your weight around your midsection, with slimmer legs and hips. Stars like Drew Barrymore and Queen Latifah share this body type.
Styling Advice:
Focus on elongating your upper body with V-necks and scoop necklines.
Empire-waist dresses and tops can create the illusion of a defined waist.
Choose clothing that flows and skims over your midsection without clinging too tightly.
Always Remember...
Remember, everyone is beautifully unique, and the goal is to highlight your best features and boost your confidence. These celebrity examples show that every body type can rock it in style.
Don't forget to check back soon for more fashion tips, trends, and style inspiration! There's a world of fashion waiting for you to explore, so stay tuned for our next post. Dress to impress, and shine on, lovely ladies! 💃✨
---